Seems like we are are going through a passage a realigning and honoring the next version of truth within us. I felt it was a great day update this post from 2011. I want to remind everyone, more than anything, I have learned in my work with self and others it is not about the grasping for what was, could have been or "should" have been. It is important to embrace and savor "What IS and the possibilities that are right around you no matter what the circumstances are. Adversity and ease support us in different ways; yet, there are opportunities that are all around. As inspired, listen, feel and be with what is right in front of you.
"She" arrived at a small boutique in the lower Gibson's, located on the Sunshine Coast in British Columbia. It was a cool and crisp evening and the sun was beginning to set. The store, Costal Creativity, welcomed "She" and "He" in and presented itself as a playful stage for the creations of local artists. As "She" entered, a large tree like structure filled with these expressive hats captured her attention. The variety of textures and colors created a canopy of fanciful head adornments. "She" intently studied each hat, wondering which one would come home with her someday.
Then, "He" stopped and looked at the wall and said with a big smile, "Triplets." A painting entitled, "The Significance of Three"


"She" studied the canvas and the three bare milky white bodies all appearing to be a different reflection of self laying across a bed of leaves. "She" noticed the three golden rosettes embedded on the painting. It was not until "she" looked closer, when "She" saw the many pages from an old book creating the background and a metaphorical wall filled with the answers to someone's questions.
"She" smiled at "He" appreciating his adoration for the feminine and his ability to always enjoy her beauty. While, "She" was still trying to make sense of her own understanding of the feminine essence and how to further embrace the collective feminine energy.


As "She" moved deeper into the store, another painting captured her attention, "Work in Progress". It perfectly described her own sense of self and current understanding of her essence. Her eyes began to move around the store taking in this artist's work. "She" felt an inner connection with each piece and then asked Rychalle, the operator of the store, "Who is the artist?", as she pointed to one of the paintings. She replied, "Autumn Skye from Powell River". When "She" looked down on the counter there was Autumn's card, it had eight images that further expressed the feminine and one image in particular that stopped "She" and almost left her breathless.
It was entitled, "Timeless Keepers"
It held all the symbols and messages that "She" embodies and holds sacred in her soul and heart. The canvas visually told the story of "Her" journey. It was as if Skye had painted this picture for her. "She" slowly turned the card over and the words just lifted themselves off the paper. "She" read it silently to herself,
"I paint in celebration of this fantastic adventure. I paint to Inspire, and to be inspired. Each canvas takes me on a journey, and as my paintbrush follows, each time I am lead back to my center.
My Paintings are a mirror, a reflection of our light and shadow, our feminine essence, and our ancient divinity."
-Autumn Skye Morrison
"She" took a deep breath and smiled…"She" had found a soul sister. "She" gently folded the card in half and placed it in her hand bag. When, "She" returned to the cottage "She" wrote Autumn and asked if it would be possible to feature her work and expressed how she felt they were kindred spirits.
On the day, "She" was leaving for the City of the Angels, she took the ferry back to Vancouver with the one and only, DoktorJ. This was the second time they spent together in each others physical presence. As "She" seemed to ramble on about the large rock that looked like ET and the universe. DoktorJ just graciously listened and for some reason suddenly pulled out this card from his backpack and handed it to "She".  It was the Timeless Keepers by Autumn Skye. "She" smiled and asked, "Do you know her?"
He replied, "Yes, She is amazing and I am going to work with her in the future." "She" shared how this image in particular was a reflection of her. All the elements and all the messages spoke to her. "She" went to hand the card back to DoktorJ and he said, "Its yours!"  With a big, "Thank you!", "She" tucked it in her journal with a contentment and gratitude in her heart for the delivery of such a special gift.
"She" looked forward to hearing from Autumn and sharing her work with the world.  It was in this interview that, "She" had a deeper understanding of the Autumn and her interconnection to the universal and cosmic feminine.
"She" would like to introduce you to Autumn Skye Morrison…a soul sister, a shining light and an inspiration to the divine feminine dancing within "She".
"She" sends, a deep Bow to her soul sister and with this message, "Thank you Autumn for your inspiration and continued evolution and expression of the divine feminine, the divine masculine and the polarities that tell the story of our existence on this beautiful planet earth."
*note what was discovered by "She" in this interview is that this painting Timeless Keepers was painted in Los Angeles at a gallery in Downtown LA…"She" had sat out in front of that gallery after a profound dinner with some friends and decided that there was some powerful energy in that gallery that night but "She" needed to go home and integrate all that "she" had received earlier in silence.
One person has told she, "You can not run from your destiny." "She" would agree.
Images from the inter

view…
'Beloved'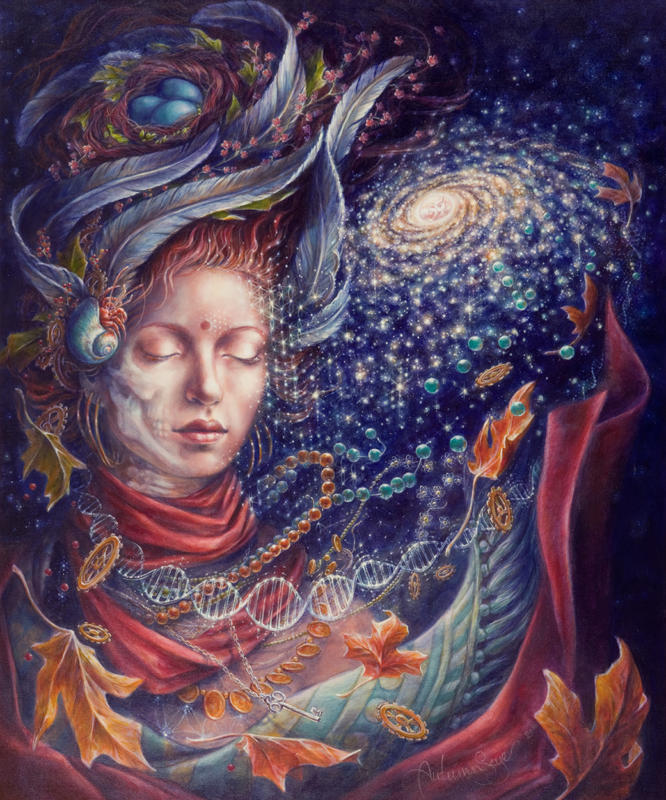 'Remember Eternity'
'Queen Be'
'The Grace of Mer'
' The Seer'
'Shelter for Opening'
Autumn's work inspired me to create this image below….
reflection from her work
and a multi-media Art expression
that I will soon share.

Autumn, Thank you for the inspiration.
You can check these expression at BeSimply Expressions by Suzanne Toro
This is the radio program with the images set to follow along with the interview

.

Connect with Autumn at http://autumnskyemorrison.com