"Food is the most primitive form of comfort." – Sheilah Graham Westbrook
Late Summer Seasonal Focus: Finding Foods for Calm. Learn how to reduce anxiety and improve your focus. Discover how to reduce worry and anxiety with foods for calm.
Learn how to Mind You + Food.
Seasonal food conversations with a deep passion to serve your well being and the well being of others.
This week's recipes included: Stuffed Peppers, Tropical Calming 'Mock' Tail, Calming Bedtime Tea and Grounding Lavender Oil (Check Suzanne's website a few days after this segment is posted. Recipes will be there too)
"Sharing food with another human being is an intimate act that should not be indulged in lightly." – M. F. K. Fisher
Research. Wisdom. Recipes. Mother Nature.
Consult and Analysis and Solution: Book a 21 minute gift consultation session with Suzanne.
Connect to Artisan + Humane + Organic...stress reducing Foods
Living Tea is a trusted source for the finest tea in the Western world. Much more than a beverage, Living Teas are created with reverence for the plant and for the planet. We source teas that are seed-grown in their native environments, free of any chemical pesticides, fertilizers, or weed-killers. 
Guided by the ancient traditions of the Way of Tea, we relate to the art and ritual of tea as a way of life. Celebrating our relationship to Nature, ourselves, and one another, the wisdom of the trees inspires our continual growth and exploration.
For more than ten years, our center, Tea Sage Hut, in Miao Li, Taiwan, hosted thousands of visitors and volunteers from around the world who came to learn about tea and meditation. We operated Tea Sage Hut on a donation basis, meaning that the courses were free. There was a donation box, but no one ever demanded you give, nor checked who gave or how much. Wu De always says, "We don't want you to give—we want you to want to give!" In other words, only give if you really want to pass the experience you had at the center on to future guests, just as your course was paid for by previous tea lovers. We don't want donations given out of obligation, but in the spirit of tea—money shared freely and lovingly, as the tea we served in the course was.
We offered hundreds of ten-day "Introduction to Cha Dao" courses at Tea Sage Hut before its doors were closed in 2019. Now we are enthusiastic to build a bigger, better and more permanent tea center, which we call "Light Meets Life." This new center will offer a much greater variety of courses on tea and meditation. It will also be a working tea farm with old-growth, ecological tea gardens for guests to work and live in during their stay, getting hands-on experience in tea processing as well as understanding the ecology and nature of sustainably-stewarded tea trees. We are currently working on buying land and building Light Meets Life. To stay up to date or contribute to this beautiful project, visit Light Meets Life.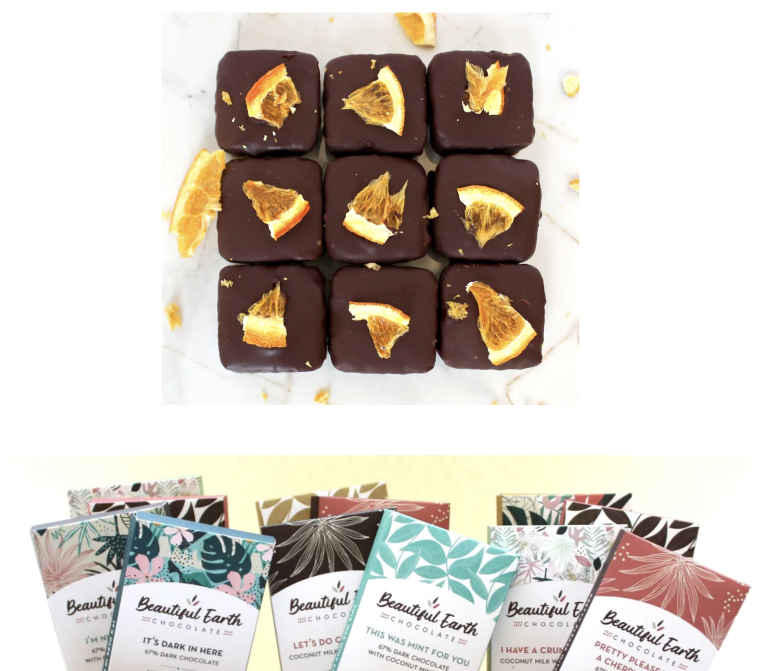 As a family owned and operated Florida company, we've journeyed through the jungle of raw ingredients to find and carefully craft the healthiest, purest, and very finest chocolate. 
We love making it and want to share with you what our family and friends keep asking for. 
Providing an alternative to GMOs, harsh toxic ingredients, and refine
Suffed Peppers
Ingredients
8 ounces lean ground beef, ground turkey and/or tempeh

Himalayan Salt and Freshly Ground Black Pepper

1 medium zucchini, finely diced

4 Roma tomatoes, seeded and finely diced

1/4 cup green olives diced

Red pepper flakes, as needed

1 cup cooked bread crumbs or Panko flakes

1 1/2 cups grated parmesan cheese
Directions
Preheat the oven to 350 degrees F. Cut the tops off the peppers. Remove and discard the stems, then set aside the tops. Remove the seeds and the membrane. Place the peppers cut-side up in a baking dish.

Heat 2 tablespoons of the olive oil in a large skillet over medium-high heat. Add the beef (or alternative), season with salt and pepper and cook, breaking up the lumps, until the meat is cooked through and just beginning to brown, 8 to 10 minutes.

Drain and reserve the fat. Wipe out the skillet and add the remaining 2 tablespoons olive oil. Add the onions and chopped peppers and cook until beginning to soften, 3 to 4 minutes. Add the garlic and zucchini and cook for another minute. Add the tomatoes and season with salt and a pinch or 2 of red pepper flakes. Cook until everything is heated through. Then, remove from heat.

Then stir in the beef and breadcrumbs (Panko Flakes). Next, stir in 1 cup of the cheese and green olives. Fill the peppers with the mixture and top each with a sprinkle of the remaining Parmesan cheese.

Pour a small amount of water into the bottom of the baking dish and drizzle the peppers with a little olive oil. Cover with foil and bake for 30 minutes.

Uncover and bake until the peppers are soft and the cheese is melted and lightly browned, another 15 to 20 minutes. To be noted if using ground turkey or Tempeh the cook time will be 20 covered and another 15 to 20 uncovered.

Enjoy with a mixed green salad and mocktail below.
Tropical Calming 'Mock' Tail
Ingredients
1/4 C Fresh, Frozen Blueberries

1/4 C Fresh Frozen Pineapple Chunks

5 drops Ashwaganda tincture drops
Directions
Pour Pineapple Juice, Maple Syrup, Coconut Milk and Lime Juice in a shaker. Shake.

Pour mineral water into a highball. Mixture from shaker.

Gently Stir. Add Mint, Blueberries, Pineapple Chunks, Kava and Ashwaganda.

Gently stir again. Enjoy
Calming Bedtime Tea
Ingredients
2 cups warm 'milk' (your favorite)
Directions
Warm the milk in a saucepan, over low heat.

Add Chamomile and spices warm for 2 minutes.

Pour into 2 cups and add Maple Syrup, gently stir.

Enjoy with a bedtime story.
Ayurveda Tip: Night Time Foot Rub with Lavender Oil
1. Prepare Homemade Oil prior to this moment. Learn here. 
2. Light a candle and add some soft background music
3. Cleanse your feet in the tub if they are not already
4. Dry, then apply the oil to the tops and bottoms of your feet.
5. Rub both sides of your feet with the pressure you prefer. Feeling into areas that can use some additional pressure.
6. Rub in completely. Enjoy your Chamomile tea.
7. Then, off to a restful slumber.
In times past, tremella (like many of the wonderful tonic herbs we work with) was preserved mainly for Chinese royalty and the upper class, as well as spiritual seekers. Tremella is used in Chinese medicine to support Lung Yin and to moisten the lungs. It is especially helpful for treating non-productive, dry coughs and Lung Yin deficiency. In addition to its respiratory benefits, tremella has been heavily associated with beauty throughout the Orient, as well as longevity and preserving youth (in TCM, the Lungs govern the health of the skin, so well-functioning Lungs equal beautiful skin).
Humanity and Earth Align+Focused Offerings
The above interview is also streaming on the following streaming service.
Here are the links to your favorite. Please Subscribe.
Music:'Shine' Cadre Scott
Alive Dante Marino
Production brought to you by
Weekly Classes & Sol+Luna Offerings
"Out beyond ideas of wrongdoing
and rightdoing there is a field.
I'll meet you there.
When the soul lies down in that grass
the world is too full to talk about."
Rumi