Join 'She' and Gaia as they explore her artwork, wisdom, expression, connection to mother earth, the embodiment of the feminine and more. Explore how we can embrace the feminine and remembering balance.
Click (Here) to listen to our conversation!
Original Acrylic Painting 24″x36″: $1200
For acquiring original art
This is one of my very first original paintings. I am stripped of the clothes of family, religion and society's conditioning and expectations. I am naked like a newborn excited about a new life and a new world. I feel free, full of vitality and ready for infinite possibilities. Being an artist and opening up on the spiritual path brought me much joy, confidence, and freedom.
Original Oil on Canvas Painting 20″x16″ $1200
Life is often seen as a path with hardships and obstacles, surprises and treasures. Different stages bring different experiences and realizations. Overall it is not the experiences themselves that stay with us but what we learn and understand from them. Walking the path as if it was a learning journey is what creates a meaningful life.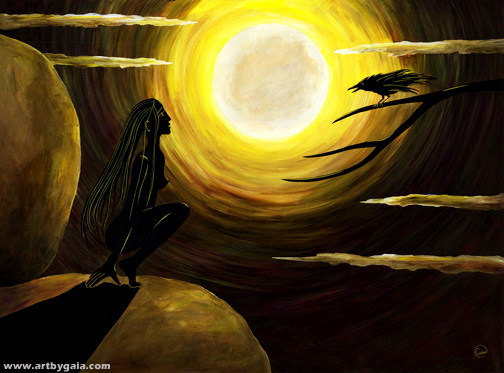 Original Acrylic Painting 22″x30″
There's a full moon and the wild woman is wide awake. Everything is silent except for the raven call to which she is alert, sensitive, open, primal, in touch…Something in me feels 'the call' for the time when we lived in the wild, feeling a deep connection, awakened in all our senses; with a mind that exists only in the moment, with a spirit fully alive.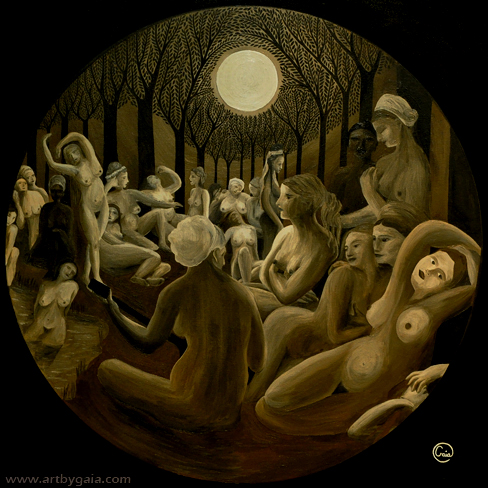 Original Oil Painting 24″x24″: $2200
On the way to making a full time living with my art, our family has been blessed by the success of our hand-dyed and painted clothing business, The Funky Clothesline. I am shocked when I sell our clothes to see how many women have a negative view of the shapes of their bodies. Most of us have round shapes all over and very few look like the overly skinny super models and movie stars. It is only recently in history that the ideal beauty has been depicted as a skinny young girl. For centuries women were represented with generous lines, shapes and volumes as in this image.
This is an interpretation of Jean Auguste Dominique Ingres painting "The Turkish Bath" from 1862. I love the playfulness, sensuality and freedom that emanates from these beautiful generous female bodies.
Painting this image also made me think about the 60 We'Moon womyn (social, political, and eco feminists activists, writers, artists, poets and shamans) that lived together in Kvindelandet, Denmark in the 80's to celebrate their connection with natural living from the land with an earth-based goddess spirituality.

Original Oil on Canvas 18″x24″ $1400
Original Oil on Canvas 18″x24″ $1000
Our primitive state was when our natural habitat and being were both untouched. Today, we, seekers are looking to find this 'territory' and quality of living within ourselves.
Original Oil Painting 18″x24″ $1200
These nomads are carpet weavers. On their carpets they  weave pictures of the stories of their lives. They weave as they go and carry all their belongings. All of them, young or old, pregnant, carrying babies, carry everything. They walk all day, day after day, and sleep anywhere.  This is their way of life and they never complain. Life is simple. They have very little, only the necessary. They do not worry about tomorrow, everyday is a new day. They walk across the plains, through the fields full of rich colours and textures. This beauty is the fabric of their life woven in their carpets.
I think I could live like this; I admire their life; I admire these people.
This painting is inspired by a movie from Iran called Gabbeh that is about those nomads.
Original Oil Painting 36″x36″ – $3000
The search for wholeness is an infinite road spiraling through many dimensions of life; we are always in transit, evolving, growing, and at the same time always returning to key points for deeper exploration. It is a journey of self-discovery of every aspect of our being and of life taking us 'for a ride' through the cycles of nature.
Original Acrylic Painting 36″x36″SOLD (was $2500)
I had two images that came together for this painting. One is a Chi-Gong movement when we are 'holding the moon' above; the other is the image of 'people in trees' that I always see. I especially like to observe trees when laying down on the leaves in the bush. Then they really come alive!
This is a moon ritual. Women-trees are meeting on the full moon to celebrate life. This image is also like the reflection of the moon in the deep water that takes one deeply into oneself.
The rainbow around the scene is like the slices of the tree trunk with its rings… a reminder of the passing seasons and time.
Original Watercolour Painting 8.5″x11″ $300
Today, because of the way information and images circulate the planet seems definitely smaller, we are becoming more and more one people living on one home, our planet. A lot of people from different cultures, religions, country of origins find that appearances and ideas are the surface of who we are. Deeper inside we all live with the same emotions, joys and difficulties, we all just want a happy and peaceful life.
About 'Gaia'

Connect with 'She'
She is here to serve, inspire & shine a light on others. She is a (BirthLifeDeparture) Transition Guide. She will connect you with Self through: Sound&Silence, Way of Yoga & Tea, Food Alchemy, Wisdom & Play.
to Explore Click (HERE)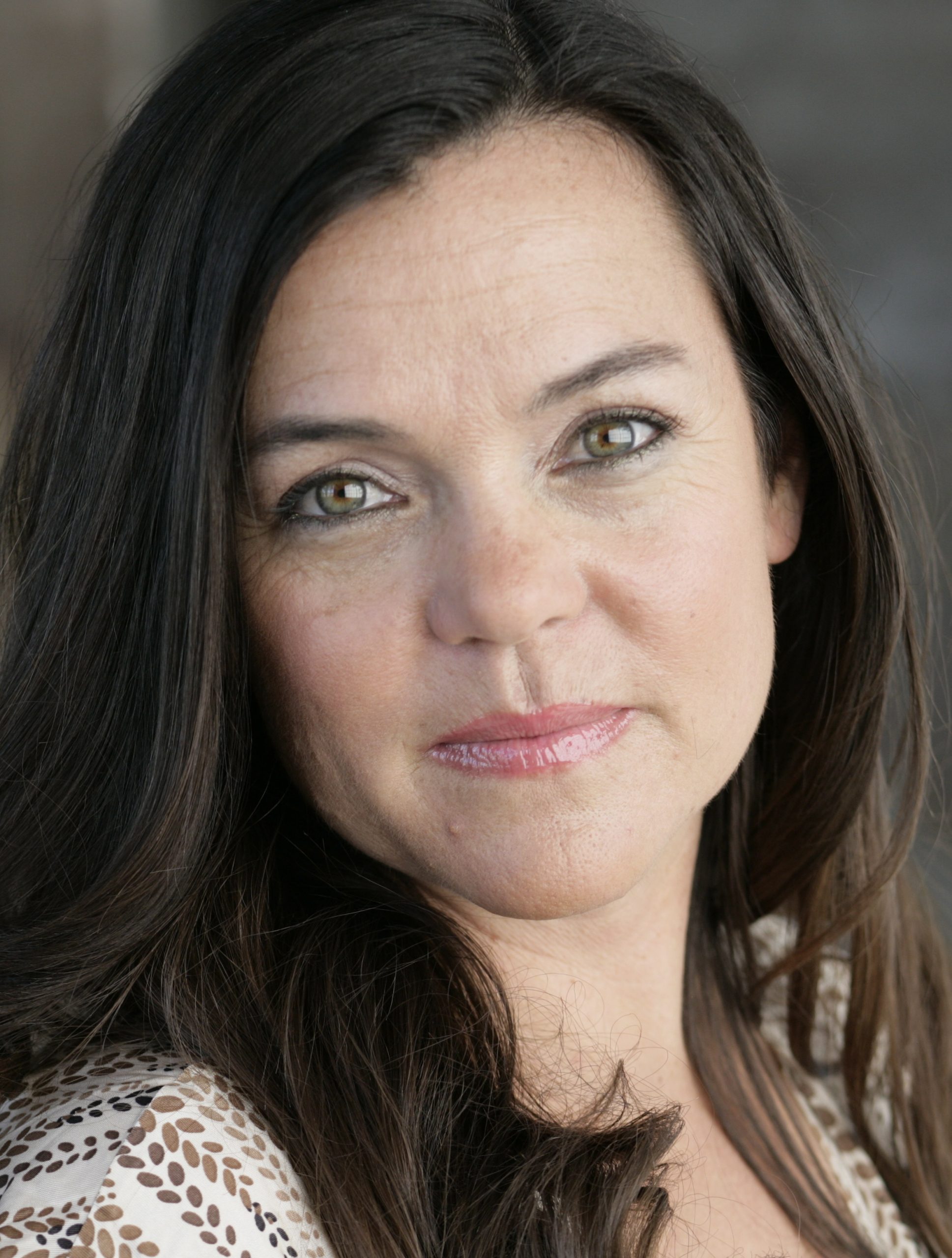 Sessions with 'She'
Want to reconnect with the Alchemy of Food for BIG and 'Lil Kids?Connect with Suzanne one-on-one…visit SuzanneToro.com
Connect…
BeSimply Broadcasts

BareNakedBliss on Amazon

Facebook BareNakedExperience

Twitter Etsy BeSimplyCafePress

Bare Naked Bliss e-book



Want to reconnect with your environment and the alchemy of food?


Embrace the medicine of Essential Living Foods.

Ascended Health ~ Energetic Healing Products
'She' especially loves and uses on a regular basis
Sufi Bliss Ascension Oil and Oralive.